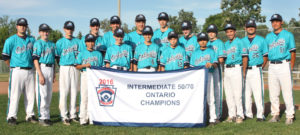 The 13-under Oakville Whitecaps will represent Ontario in the 2016 Little League Intermediate Canadian Championship Tournament being held July 20th-28th in Calgary, Alberta. The Whitecaps will compete against teams from across Canada for the right to represent Canada at the Little League Intermediate World Series in Livermore, California.
Acclaimed as the 2016 Ontario Intermediate Champion in June, the team received its official banner and championship pins during the 2016 Canada Day Classic tournament hosted July 1st-3rd by Oakville Little League.
Team manager Nick Rigato led the 14U Whitecaps to the Canadian championships in 2014. In 2015, he was able to advance to the 2015 Junior League World Series in Taylor, Michigan where the Whitecaps faced teams from all around the world. "Having been there before and knowing what an incredible experience it is for the players, I'm thrilled that our 13U team will have this opportunity," said Rigato.
"We are very proud of our Whitecaps program" said Aldon Johnson (AJ) Director of the Whitecaps program. We have raised the bar within our All-Star and Select program which has allowed some of these teams to have very succesful All-Star and Select seasons. Our program is formed out of our grass roots house league program which is the basis of Oakville Little League. Our house league program is what generates the players we see at the Select and All-Star level says AJ.
The Whitecaps All-Star teams are a part of Oakville Little League which provides the youth of Oakville with opportunities to develop citizenship, discipline, teamwork, and physical well-being through baseball since 1992.
For more information on Oakville Little League and the Whitecaps All-Star program, please visit www.ollb.org.