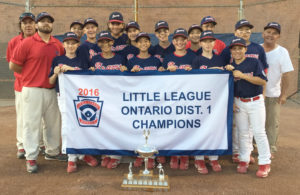 The Ancaster Diamondbacks and High Park Braves squared off at Stoney Creek Optimist Little League Park on Thursday night for the right to be crowned Ontario Little League District 1 Major division champions.
High Park kicked off the game on a big note as their second batter of the game Ethan Custodio took the offering over the center field fence for an early 1-0 lead.  The Braves looked to add to their total in the second when they loaded the bases with only one out.  However, a pop up and a ground out ended the threat.
The Diamondbacks tied up the game in the bottom of the third when Justin White, who had runners on the corners, hit a one out RBI single to right.  Aiden Zimmerman would then single to load up the bases for Colin Muir.  Muir would then reach base on a fielder's choice that allowed the go ahead run to cross the plate.
The Braves would once again load up the bases in the fourth and forced Ancaster's starting pitcher Jackson Caisse due to the Little League pitch count rules.  Zimmerman came in and got the batter to ground out for the final out of the inning.
High Park regained the lead in the fifth when Matt Reynolds hit a double to right which scored a pair of runners.  That would be all the Braves get as three straight pop ups would get Ancaster out of the inning.  Ancaster looked like they had retaken the lead in the bottom half of the inning but a catch by Reynolds right at the fence kept the score at 3-2 for High Park.
Jin Yoo would come out of the game one out short of a complete game for the Braves in the bottom of the sixth with runners on first and second.  Yoo would pick up the win on the next pitch as catcher Ash Abols was able to throw out a runner at third trying to advance on a wild pitch for the final out of the game.
With the win the High Park Braves will now represent Ontario Little League District 1 at the provincial tournament.  The Ontario provincial tournament will start on Saturday July 23rd in Thunder Bay.